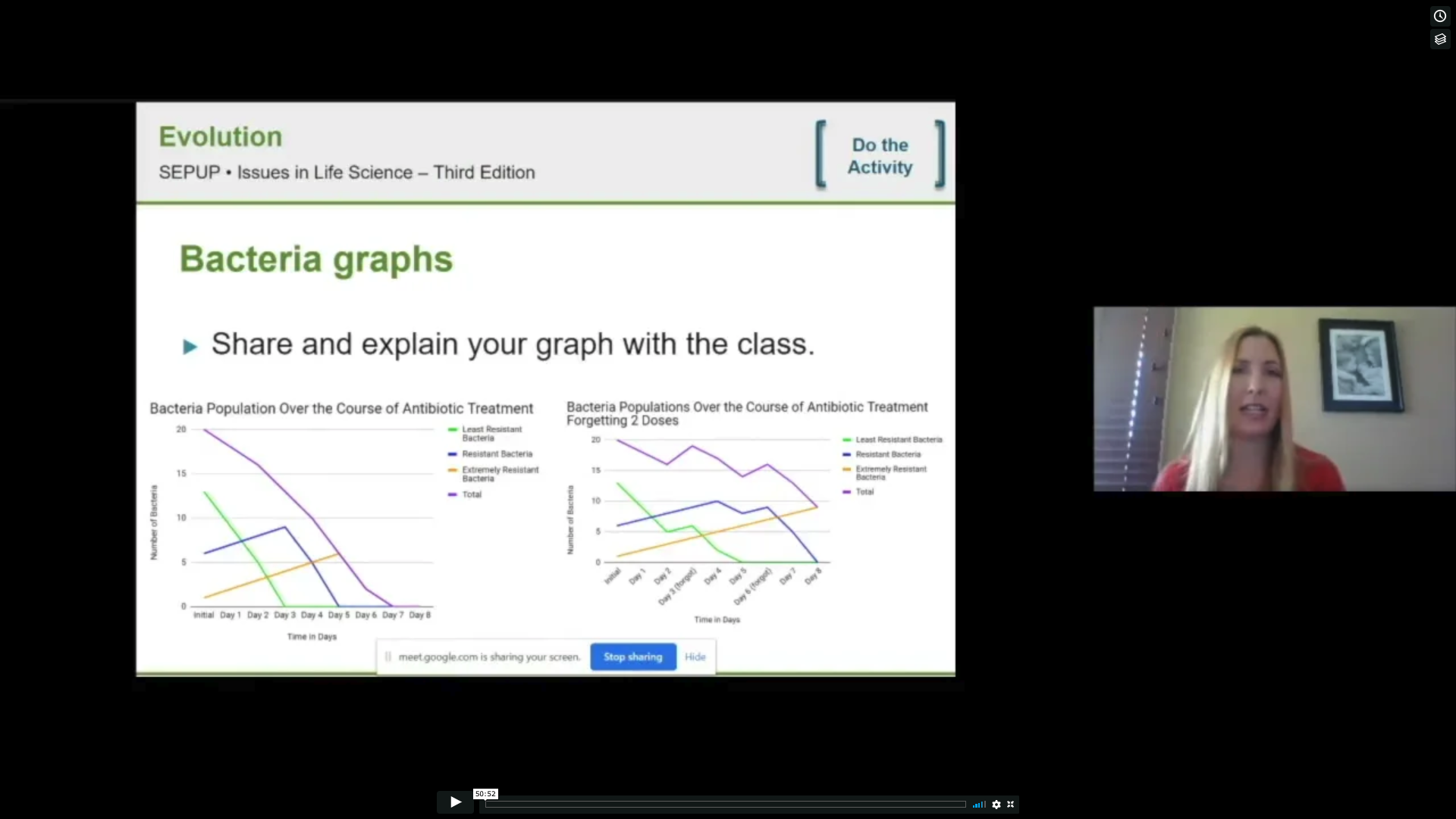 I read an article recently about the unprecedented level of collaboration among scientists during this pandemic, and it made me think of how many examples I've seen of this lately, not just in science. In education we're seeing curriculum developers creating and sharing tools, digital platforms offered at no cost, teachers working across the country to support one another and share ideas - there's so much we can accomplish in this collaborative spirit.  

A week ago, one of our middle school science SEPUP teachers and trainers posted her first Distance Learning experiences with our SEPUP Middle School Facebook group, and we asked if she'd be willing to let us share it with you. Without hesitation she agreed, "anything that might be helpful for our community!"

Above is a (long) video we put together from her first three activities in SEPUP's Evolution unit from Issues and Science, Designed for the NGSS. For obvious reasons we've redacted students' faces and full names, but you can still see how the lesson is run, how the students are participating, and how the PowerPoint slide deck and LABsents are being used in this virtual teaching situation. For the sake of length, we did cut sections - full class length is usually about 30 minutes each. 
Toby McDonald Chou teaches at The Waverly School in Pasadena, California where she uses SEPUP Issues and Science, Third Edition (and previously used Second Edition). We are exceptionally appreciative of Toby's willingness and bravery to share with you her first Distance Learning classes ever - in the name of collaboration. While her situation may be different or similar to yours, we felt that this might be a helpful starting place as you navigate your instruction over the next several weeks. 

There may be others out there like Toby who have started Distance Learning with SEPUP and are willing to share their ideas and experiences - both in middle and high school programs. How can Lab-Aids® be the conduit for this community to collaborate? Do you have ideas or videos to share? Do you need more support? Would you be interested in attending or participating in a webinar specifically around using SEPUP programming in a Distance Learning environment? Take this quick survey and let us know how we can best serve our teachers during this time.