A different kind of program
Updated for the NGSS, EDC Earth Science incorporates the three dimensions of each NGSS Performance Expectation for high school earth science. This program:
integrates 59 meaningful hands-on activities,

includes embedded literacy strategies and comprehensive teacher support, 

and is packed with relevant Big Data to help students prepare for our data driven future.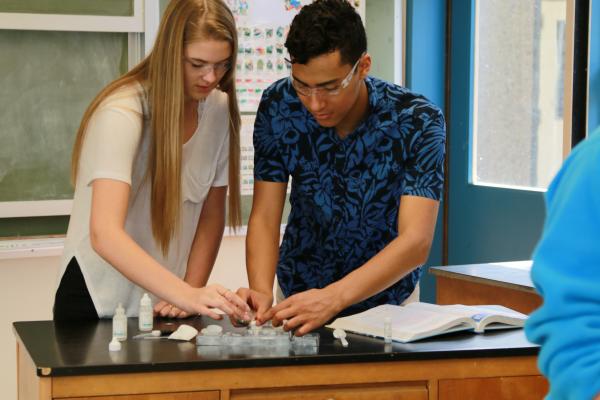 EDC Earth Science is designed around the belief that students are capable of rigorous and in-depth explorations in science when given adequate support, structure, and motivation for learning. Students perform data-intensive Earth Science investigations set in real-world contexts. They also engage in a variety of other activities, including topical fiction and non-fiction readings and research projects and presentations that build critical life and scientific literacy skills. 
EDC Course Units
HYDROSPHERE: WATER IN EARTH'S SYSTEMS UNIT (3-4 week unit)
Essential Question: Water is critical for all life on Earth. How does its movement and distribution affect our society and global economy?

ATMOSPHERE AND CLIMATE UNIT (5-8 week unit)
Essential Questions: What is the science behind global climate change, and what possible actions can we take to minimize its impact?

EARTH'S PLACE IN THE UNIVERSE UNIT (3-4 week unit)
Essential Questions: How did the Earth and planets form? How do we know what we know about the structure and composition of the Earth?

PLATE TECTONICS UNIT (5-7 week unit)
Essential Questions: How have plate tectonics shaped the current surface of the Earth? What hazards result from plate movement and why is it important to understand the potential dangers?

THE ROCK CYCLE UNIT (3-6 week unit)
Essential Questions: How and where are different types of rock formed? How do the forces of erosion and deposition affect human activities?

EARTH RESOURCES UNIT (3-6 week unit)
Essential Questions: How and where are fossil fuels and other valuable earth minerals formed? How has the location and use of these resources affected society and the environment?
Contact Us
Questions?
We welcome the opportunity to address any questions, should they arise.