Ways to Enter
*Find a Lab-Aids employee for an entry card.
*Scroll for further instructions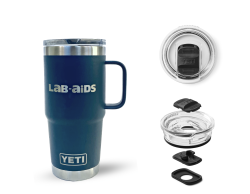 YETI 30oz Mug
TSA Travel Pack
Get started before Atlanta
Even though you must be in Atlanta to turn in your Entry Card, several of the completion options can happen ahead of time. Evidence of only three are needed for submission.
Complete our survey and share your feedback and insights. 
Looking for a middle school science curriculum? Try our Curriculum Builder to align our middle school units with your scope and sequence. 
Be sure to take a screenshot or save the email confirmation as evidence of your participation! We'll use that to verify completion on your Entry Badge. 
Once you're there
You can also complete your Entry Card by attending one or two of our workshops at NSTA Atlanta. These might be offered in our booth, workshop room #B207, or one of our partner workshops from SEPUP out of The Lawrence. 
Connect with Lab-Aids at NSTA
All entries made onsite must be submitted and verified in person before 1 pm (EST) at the Lab-Aids booth to qualify for prizes that day. Prizes must be claimed in person between 1-3 pm EST. 
*Party invitations are only available Thursday, March 23, 2023 and recipients must be 21 or over. 
** Not attending the NSTA Convention? See entry details here. 
THE FINE PRINT
The 60th anniversary promotion runs between January 30 and March 25, 2023, with final submissions qualifying until Thursday, March 23, 2023 at 1 pm (EST) for tickets to the evening event, and Saturday, March 25, 2023 at 1 pm (EST) in Atlanta, GA for all other prizes. Winners will be determined by drawing from qualifying entries. Prizes include 1) pair of VIP tickets to the Lab-Aids evening event, featuring comedian/magician Justin Willman ($500 value), 2) one backstage opportunity to meet Justin Willman 3) one Lab-Aids backpack ($220 value), 4) one YETI 20oz mug with Lab-Aids logo ($42 value). All prizes require entrants to be present at the Lab-Aids booth in the NSTA exhibit hall at the designated pick up time. Failure to arrive or confirm before each daily window will result in forfeit of said prize. No purchase necessary. Winners will be drawn at random from entry box at or after 1 pm (EST) daily and all prizes must be claimed in person on the day of the drawing by 3 pm (EST). Purchase of Lab-Aids products will not increase the odds of winning. Must be 21 and older to enter. One entry per person. Entry does not require attendance at NSTA national conference in Atlanta. See alternate entry terms and conditions.