Third Edition
A Natural Approach to Chemistry offers the familiar hands-on, experiential learning that teachers and students love from earlier editions along with powerful new updates. Lab-Aids partnered with a team of researchers, educators, and chemists, including Dr. Manos Chaniotakis, one of the lead authors of the original A Natural Approach to Chemistry, as well as software engineers and mobile app designers, who all specialize in designing and developing learning tools for the education market. This integrated learning system, available exclusively from Lab-Aids, begins shipping in Fall 2023.
Overview Highlights
Full-year high school program suitable for basic, honors, and college prep courses
5E Learning Model
LabHub 2.0 with Bluetooth-connected app
65+ lab investigations to support independent inquiry and hands-on student investigation
Comprehensive NGSS alignment and support
Beyond the required PEs: optional activities on gas laws, pH, organic chemistry and more.
Design Elements
Chemistry taught as it was meant to be taught. This program puts the relevance of understanding chemistry front and center through its spiraling, integrated, and coordinated learning system. Essential chemistry content is explored through labs, activities, and readings in a context that is topical, meaningful, and accessible for high school students. Hands-on labs and activities are integrated within a more classic textbook framework as students use specially designed probe-ware and other unique equipment to gather, analyze, and model data.
Student Portal: Online Support
Students with the online portal access also have ancillary digital resources including student books, lab manuals and videos, leveled skill sheets, ReadSpeaker, and vodcasts. Vodcasts are a unique resource that provides an approximately 20 minute guided presentation for each section in a chapter. This allows a teacher to flip the classroom, assigning viewing prior to class, or to reinforce material after class instruction. 
Teacher Portal: Online Support
Included with the program, the online Teacher Portal provides additional resources such as the instructional videos created for every lab investigation. These cover the main ideas, the reasoning behind the lab, any necessary set up, and a run through of the full investigation. Portals also includes an editable slide deck for lab presentations, solutions for end of chapter problems sets, and much more.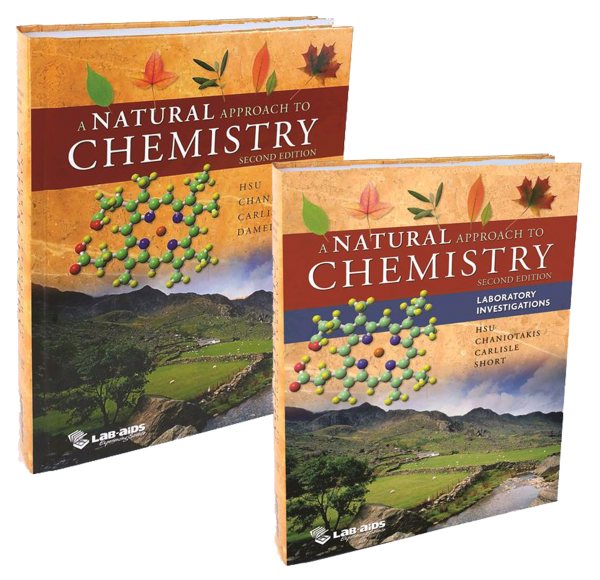 Looking for Second Edition?
Refills and replacements for A Natural Approach to Chemistry, Second Edition, can be found on our store site. For information on renewing portal licenses, please request a quote directly. 
FIND OUT MORE
Have questions about teaching with Lab-Aids?