What would kids create, given permission to follow their own ideas?
STEM curriculum at its best. Engaging challenges created for any student to follow their curiosity to design, test, tinker, and invent.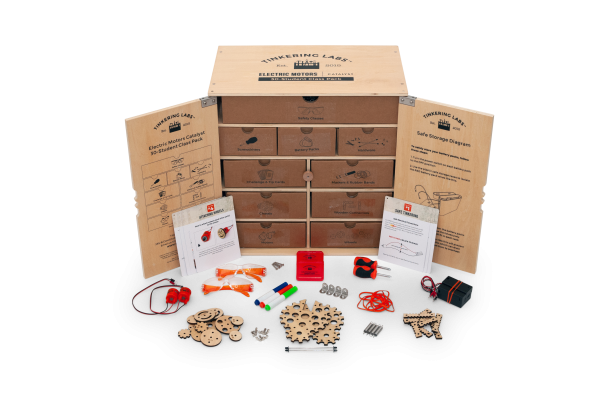 Introducing
Tinkering Labs - our new elementary STEM solution. 
Proudly launching our first module, the Electric Motors Catalyst. Up to 17 unique class sessions aligned to the NGSS, this module is a great fit for both the K-5 classroom and enrichment programs like after-school, museums, STEM camps, or clubs. 
Equipment for a class size of 30, working in pairs. 
Support for the challenges of STEM education
How do I make STEM projects flexible enough to work for all my students?
Tested and proven projects that are flexible enough to work for all children.
Where do I STEM materials and how will I manage all the parts?
All the materials neatly packed in a convenient and attractive cabinet.
Completely Reusable.  Durable materials. And easy to expand to support more students.
How do I fit STEM projects into available classroom time?
Lessons constructed to easily fit into available classroom time, with options for expanding / contracting them.
How can I assess STEM and PBL projects?
Clear Student assessment guidelines.
Are there STEM and PBL activities that are aligned with the NGSS?
Defined NGSS Standards for each unit, lesson, and challenge.
Already see this in your classroom?
Yes, I'm excited to start using it!
Not quite, I have some questions.
Excellent!
We won't get in your way!
No problem
Whether you need help understanding how the lessons are aligned the NGSS or just want to know more specifics, we're happy to help.