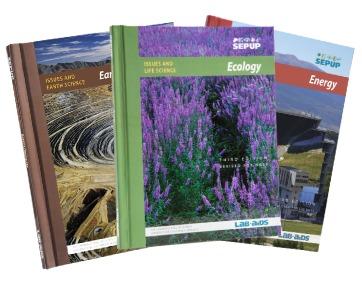 EdReports Review
Issues and Science: Redesigned for the NGSS has earned the second-highest overall scores of any published middle school science curriculum. EdReports found Issues and Science to fully meet expectations for three-dimensional learning and assessment, to present phenomena and problems as directly as possible, and to use the assessment system to show evidence of increasing student sophistication in the content from grade six to grade eight.
Questions encouraged
Research shows students perform better with hands-on, research-based curricula like ours.
Development Partners
Frequently Asked Questions
I have heard great things about Lab-Aids. Would you tell me a little more about how you got started?
For more than 50 years, we have dedicated our time exclusively in the area of secondary science education. At Lab-Aids we develop, manufacture, and publish supplementary and core curriculum programs, from middle school science lesson plans through high school science lesson plans. We develop our programs to provide students with a better understanding of science concepts, through direct experience.
SEPUP is one of our valued development partners and stands for Science Education for Public Understanding Program. Part of the University of California, Berkeley's Lawrence Hall of Science, SEPUP embodies research-based development and is a vital part of what makes Lab-Aids effective for students and teachers around the United States.
Can you tell me more about your research-based program design?
All our student and teacher materials, from science kits for middle school to textbooks for high school students are developed using an iterative process. This process involves development, piloting, and field-testing phases. We collect feedback and important data during the piloting and field-testing phases, which we use to revise our programs until they are ready for use in schools around the United States.
Can you provide more information on the SEPUP course structure for middle schools?
The benefit of the SEPUP program is that each component of the program references the others so that a cohesive learning system is formed not only for students but for teachers as well. A full year of the SEPUP program typically includes 5 or 6 units that can be taught in just about any order, depending on state requirements and your school's sequence and scope. Each SEPUP unit is then structured with activities like middle school science projects. These activities are designed by nature to keep students engaged, to build on storylines, and to increase refinement over time.
I am interested in your programs but need a step-by-step breakdown of how your programs are developed, to show the decision-makers at my public school. Can you help?
Developing an effective, exemplary curriculum is difficult, especially for middle school science and science courses in high school. Therefore, we develop our programs using research-based methods:
Science Education Research – The foundation of our pedagogical approach.

Field Testing – We test equipment prototypes and drafts of our programs in U.S classrooms.

Scientist Review - Scientists review our content to ensure our materials reflect the latest scientific research and knowledge.

Program Development – Project staff at local schools implement our lesson sequences so that we can develop versions of our program that can be tested at a national level.

Feedback – We collect nationwide feedback from teachers, education experts, and students. We then update our programs accordingly before any of our programs are published commercially.

External Reviews – On some occasions, our programs are evaluated externally to ensure effectiveness.

Production & Distribution – Once a program has been finalized, the Lab-Aids team distributes it across the United States to improve science education across the country.
How are your programs and science activities for middle school developed?
Developed by research-based institutions, all our programs and the activities associated with them are created through educational best practices, cognitive development, and in-depth research. We use hundreds of publications and studies as part of our research-based design process to ensure we develop curricula that are best for students. After our programs are developed, they are field-tested and reviewed by leading scientists. We then use external evaluators to better track student learning and overall effectiveness.
I teach middle school earth science and middle school physical science. Do you offer programs that cover these subjects?
Yes. If you are interested in a specific middle school science curriculum or high school science curriculum, we have developed programs for a wide range of subjects.
Subjects include Earth Science, Physical Science, Life Science, Biology, Chemistry, Environmental Science, and Agricultural Science. Each program connects relevant science phenomena to issues that happen in real life.
What tools do you offer for middle school teachers and high school teachers in the classroom
Whether you require a single activity or a year-round curriculum, Lab-Aids provides middle school and high school teachers with everything they need to focus on what matters most: teaching! Our teacher resources include what to teach and why it is the Lab-Aids approach to teach that way. All of our programs are ready to be brought to life by the teacher and are supplemented with the following materials: middle and high school science textbooks, middle and high school online resources, storage carts, organized drawers, drawer contents, and even signature items like science games for middle school students.
Do you provide lab equipment?
Yes. All our core curriculum programs include equipment. Whether you need tools for middle school science labs or resources geared to science experiments for high school, we cover equipment for 5 classes of 32 students. Students may work in fours, pairs, or individually depending on what works best for your students. 
Do you offer equipment add-ons, like science experiment kits for middle school students?
We do not consider our equipment as add-ons or afterthoughts. Rather, our equipment is fully integrated into Lab-Aids programs. Your equipment will be referenced in the pages of the middle school science books provided as part of the lesson that you are teaching, facilitating easy lesson integration and structured planning. To ensure durability and efficacy in student understanding, all materials are extensively tested in classrooms around the country.
The textbooks I currently use leave students disinterested and disengaged. How do Lab-Aids books facilitate engagement and interest?
Our middle school science books and high school science books promote curiosity and cater to student learning styles through a range of field-tested approaches including investigations, labs, and readings. The investigations found in our books stimulate real-world science experiments for middle school students. By applying varied activity types through simulations and investigations our science books provide consistent structure without the downfalls associated with repetitive, boring content. 
Are online resources included in Lab-Aid Programs?
Yes. Our online resources are an essential part of our high school and middle school programs and bring an additional layer of support and functionality for each core curriculum. Teachers and students gain access to editable PowerPoint presentations. If you teach middle school and need to get an absent student caught up on a lesson, LABsent student sheets and videos help in this regard. Teachers even have access to digital simulations to enhance classroom experiences, as well as online Spanish student books and on-demand PD videos that are ready for immediate use.
What forms of teacher support do you offer?
Whether you are a veteran high school teacher or have only just started teaching middle school, we have extensive resources for teachers using Lab-Aids programs. New to the SEPUP program? Need a refresher on project science kits for middle school students? With 24/7 online portals, you can access instructional resources with just a few clicks. If you prefer, we also offer resources by program. Because knowledge is power and supporting science educators is a high priority for us, we also provide ongoing professional development opportunities for teachers – such as NSTA workshops, best-practice strategies and even help with district-wide program implementation.
I need a program that can adjust to my state's standards. Are Lab-Aids programs customizable?
With the use of equipment packages and unit books, it's easier than ever to customize a curriculum to your state's standards. We've done most of the work for you by aligning performance expectations with most states' recommended sequence and scope. With our Curriculum Builder, you can select your state to drag and drop program units by grade to fit your district's needs, or you can start from scratch. 
I have read that your programs can help increase student literacy. Is this true?
Some people find it hard to believe that increased literacy is possible through a course like middle school life science, but our proven programs provide many opportunities for students to grow their language skills. With embedded strategies incorporated into our programs, and resources like science notebooks provided to record your student's thoughts and observations, writing skills like note taking are acquired as part of the learning process.
What Literacy Strategies are included in your SEPUP curriculum?
Literacy Strategies embedded in the SEPUP curriculum include the following:
Reading comprehension support

Enhancing student writing

Facilitating group discussion

Synthesizing vocabulary and concepts
True or False?
All educational publishers develop curriculum the same way.
Not all publishers are the same.
Lab-Aids exclusively publishes core science curriculum developed by research-based institutions. This results in thoughtful midlevel and high school programs guided by extensive research in science education, rather than a textbook product. Learn more about our development partners and the evidence of the impact of our programs.
Not all publishers are the same
Correct. Lab-Aids exclusively publishes core curriculum developed by research-based institutions who write their programs from extensive research in science eduction. Learn more about our development partners and the evidence of the impact of our programs.