In order for teachers to share middle school SEPUP simulations with students: 
Your school must have purchased student licenses. Teachers cannot share simulations if your school has not purchased student licenses.
Student portal accounts must already be created. The process of creating student accounts varies with each rostering method. Just make sure students can already access their books on the Lab-Aids portal. 
LTI Users (Canvas/Schoology): In addition to the above bullets, in order for students to successfully open simulation links, they must already have a Lab-Aids portal window open. If they do not already have a portal window open, they will be prompted to log into the portal manually, which they cannot do.  
How teachers share simulations with students using a direct link: 
1. Teacher assigns the simulation(s) to students the same way they assign books to students. (Student Content > Assign Content)
If students register with an access code or access their account through Canvas/Schoology, this step does not need to be completed, since simulations will automatically be in students' libraries.
2. Teacher clicks on the simulation to be shared (Simulations are located in Student Content > Content)
3. Teacher copies the link to the simulation from the URL bar:

4. Teacher pastes the link in the desired location (Google Classroom, Canvas, Schoology, etc.)
5. Students click on the link to access the simulation.  
Important: Some students may be prompted to log in first. If so, they will be brought to the simulation after logging in. 

Ensure students know how to log in. 

If students receive an error message "You are not currently assigned this book.", then teacher needs to assign the simulation to their students. 
LTI customers (Canvas/Schoology, etc.) must already have a Lab-Aids Portal window open before clicking on this link; if they don't, they will see a login screen, which they cannot use to log in. 
A few notes on simulations: 
In the portal, teachers access simulations from the Student Content > Content menu. Simulations are in yellow.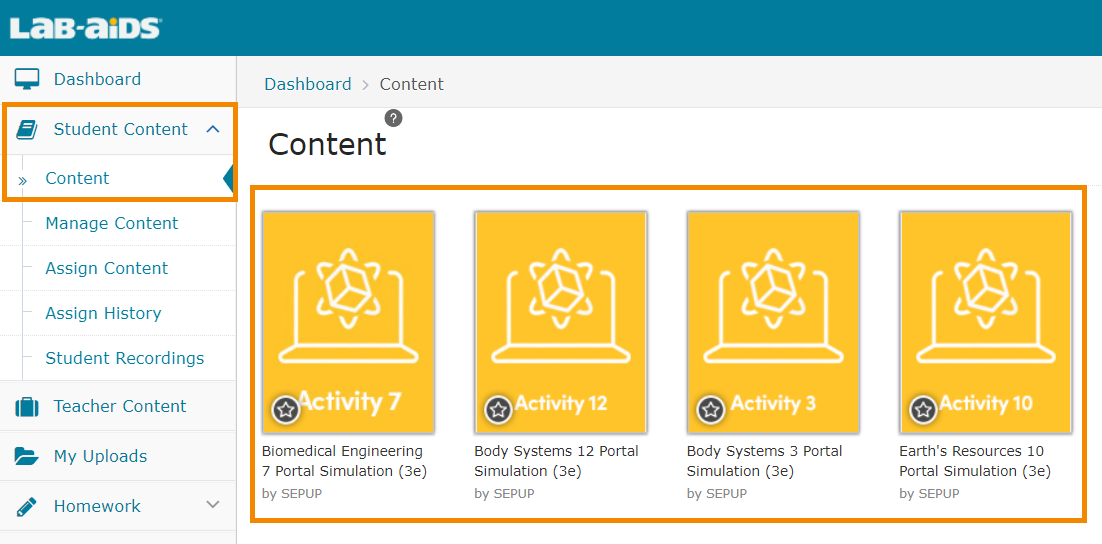 In the portal, students will see simulations in their library along with their student books