Lab-Aids kits and modules, CASE material packages, and AgSci bundles provide an inquiry-based approach to address key agriscience and STEM content. This approach both motivates students and enhances understanding, while preparing them for critical thinking in college, career, and life. 
With Lab-Aids students have the opportunity to experience agriscience by using: 
inquiry strategies to collect and process scientific evidence.
evidence to make informed decisions and evaluate trade offs.
real-world issues that encourage development of analytical trade-offs and critical thinking.
innovative methods for integrating science, mathematics, literacy, and technology.
materials that illustrate agriscience's important role in a sustainable future.
View a Sampling of our Kits and Modules
INTRODUCING...
The Power of CRISPR
This six-lesson module provides students with the opportunity to learn about and use the new CRISPR gene-editing technology in a safe and controlled investigation.
Instructional materials and background information make The Power of CRISPR accessible for all teachers, not just experts in biology.
Take a look at some of our Agriculture Bundle Packages. All agriculture activities come with student sheets and teacher guides. 
Supporting Agriscience Education
Professional Development Partner with NAAE
Lab-Aids has been a professional development partner of the National Association of Agricultural Educators (NAAE) since 2005.  Our kits, curriculum, and approaches to professional development have been important elements of the National Agricultural Teacher Ambassador Academy (NATAA), a premier program of NAAE, since its inception.  We  we received the 2010 DuPont Educational Partner of the Year in part due to our work on the NATAA program.  We can design short- and long-term professional development workshops to support the use of inquiry teaching and learning techniques and put together programs in support of the AFNR Pathways.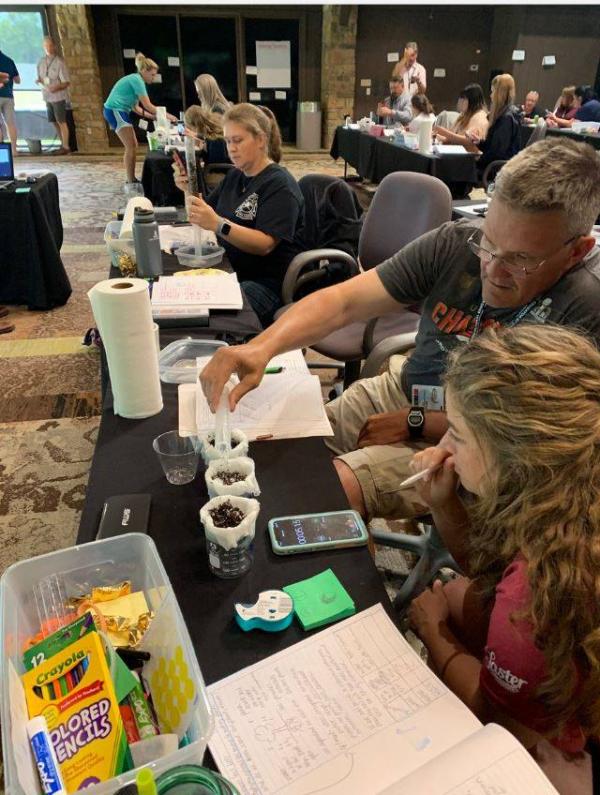 Our workshops
Provide teachers with educational resources and inquiry-based teaching skills to implement science-based activities in the agricultural education classroom.
Share lesson plans, laboratory exercises and teaching strategies in order to improve the resources available to teaching agriscience in the state.
Incorporate literacy strategies that enhance student learning and tie back to national and state ELA standards.
Provide examples of how AFNR, literacy and science education standards naturally fit and enhance existing agricultural education curriculum.
Train and influence the next generation and future employees who will advance agricultural sciences to the next level. Our workshop providers are current agriscience teachers and experienced, effective presenters. 
Our mission is to train agriculture teachers on how to enhance the science that is already present in agriculture, as well as develop students as problem solvers and thinkers through the inquiry-based teaching method.  We can provide face-to-face and webinar based training services.
Each of the activities below is available for workshops in personal workshop sampler format with materials and literature, and also in full classroom kit format.
Activity suggestions:  This includes one exploration each in Animal Science, Plant Science, and Ag Mechanics.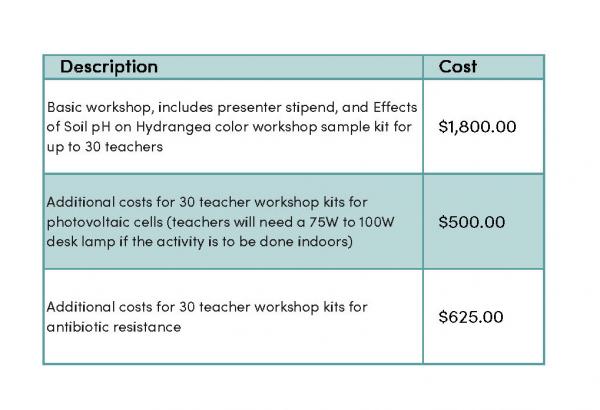 Typical Workshop Costs
Face-to-Face Workshops: The costs for the three hour, face-to-face workshop include all costs for the presenter and associated travel and hotel/meal expenses, and Effects of Soil pH on Hydrangea color workshop sample (above), for up to 30 teachers.  If desired, workshop kits for additional activities can be provided at additional costs as shown. 
Online Workshops:  The basic three hour workshop below is available for $1500.00 for online workshops, where the presenter and teachers connect remotely using Zoom or similar videocast software, and no presenter travel costs are involved.  We would ship the Hydrangea kit sampler to teachers directly so they can use them during the online workshop, and handle the two other workshops using Jamboards or similar simulation software. 
Other activities are available to produce a custom workshop.
Ready to schedule a PD?
Let's get started