A message to the skeptics
I was once like you. 
When my district adopted the SEPUP programs I was initially livid and felt that our leadership had betrayed its gifted and creative teachers with a scripted program. But that didn't last - two months into the program the impact was clear and my students were engaged at a level that allowed me to take them further than I ever had in my 12 years in the classroom.

The truth is, most of us here at Lab-Aids could tell you the same story. How hard we worked for our students everyday until one day we were given a gift - a gift that made us better teachers and made our students engage in a deeper and more meaningful way - and we were hooked. 
Rachel Porter, Director of Marketing at Lab-Aids®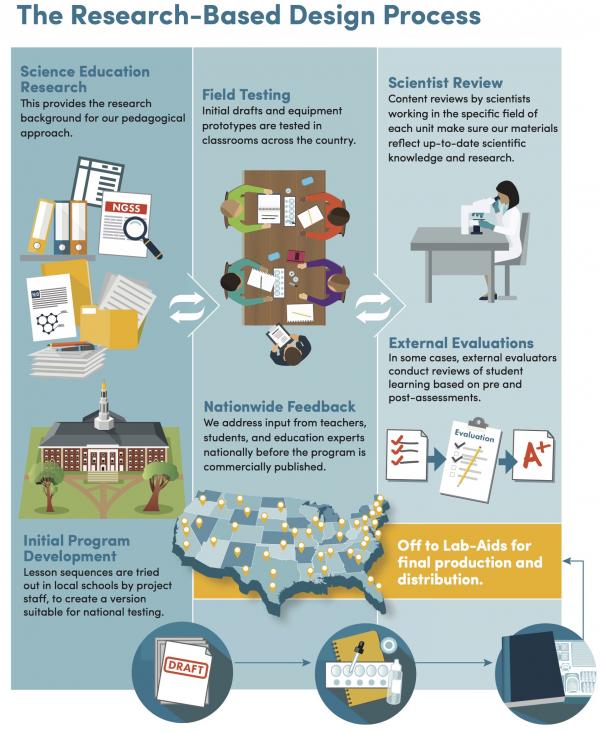 The development process is a little different
All of our programs are developed by research-based institutions and are a product of rigorous research in content, cognitive development, and educational best-practice. These programs are linked to highly regarded institutions, like the Lawrence Hall of Science and the Educational Development Center, that also have a stake in maintaining their reputation of excellence. 
The research-based design process for curriculum development is based on hundreds of studies and publications that provide evidence around what works best for students. After initial development the programs are field-tested, reviewed for accuracy by scientists in the field, and in some cases, are reviewed by external evaluators to measure student learning. 
Research-Based
All Lab-Aids® programs are developed in partnership with these highly respected institutions. 
Inquiry-Based
Guided and open-ended-inquiry opportunities give students experience with scientific process and natural phenomena. 
Explore our science programs
Transitioning to full NGSS alignment
True or false?
You are expected to support literacy in your science program.
Of course you are!
Most schools today expect literacy strategies to be taught in all classes - including science. This only makes sense as students need to be able to understand scientific material in order to gain scientific knowledge. 
But how can you make these strategies an integrated part of your lessons, not just an add-on?
Students must be literate to study science.
In order to gain scientific knowledge, students must be able to understand and evaluate scientific material. This requires them to possess the literacy skills necessary to read, view, and articulate scientific thoughts.