Lab-Aids is proud to offer the ReadSpeaker text-to-speech capability. 
ReadSpeaker includes Text-to-speech functionality: Students can choose to listen to an audio version of Lab-Aids content. Text will be highlighted as it is read.  
No downloads or plugins required.
Choose to read an entire page or just a selection of text.
Text is read aloud in English. We do not currently support ReadSpeaker in Spanish, but we are aiming to provide this in the next year. 
Any device will work. 
ReadSpeaker is not currently offered in the Windows or iOS apps. It is only offered when accessing the portal from a browser.  
How do students use ReadSpeaker? 
Students can use ReadSpeaker in two ways: 
1) Read the entire page: Click the "play" button at the top of each page to have ReadSpeaker read the entire page. Words will be highlighted as they are read so students can follow along.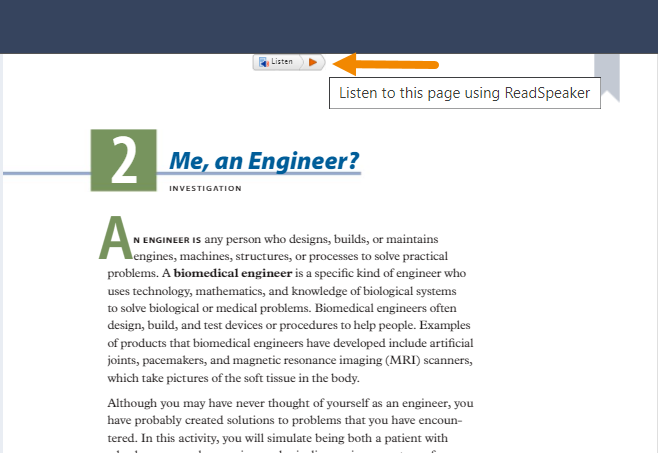 2) Read only a selection of text: Highlight specific text and click the button that appears to listen to just that selection.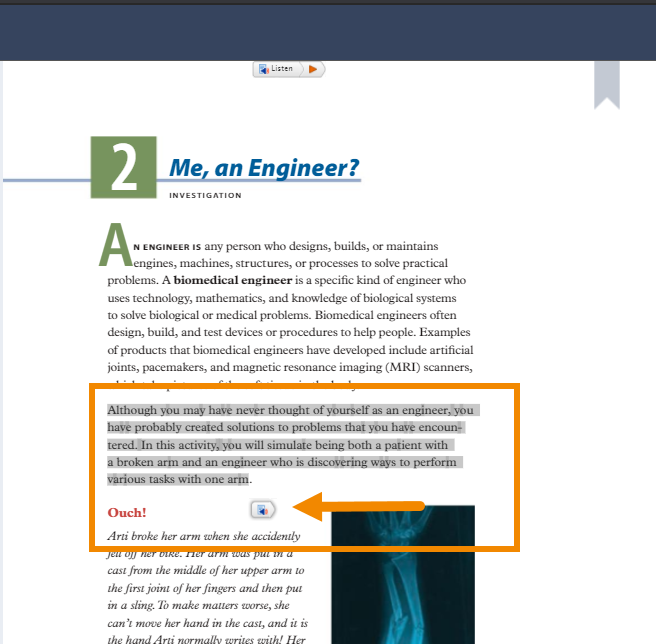 How to Navigate: 
After clicking "play", a tray of icons will appear. Here is a description of each icon:

You can also click the "Settings" button to change the settings: 

Toggle text highlighting on/off
Change the color of the words, highlights, and sentences. 
Change the reading speed (slow, medium, fast)
Toggle automatic scrolling on/off
Toggle popup button on/off
Restore to default settings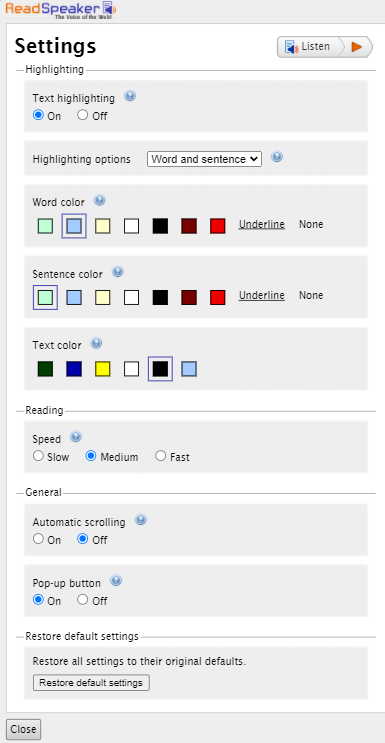 Notes: 
1) ReadSpeaker is not 100% accurate, and it will occasionally mispronounce words. We will work to improve its pronunciation over time. 
2) To make the ReadSpeaker icons larger, zoom in. Once zoomed, you'll need to click the "select" arrow on the bottom right of the page to be able to click ReadSpeaker icons while zoomed in.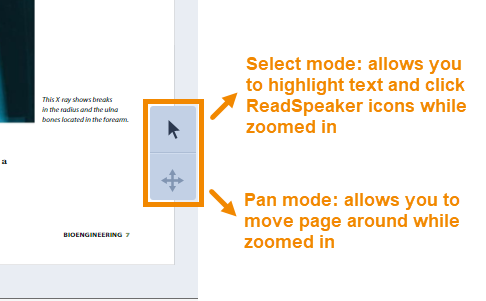 Questions? portals@lab-aids.com