Evidence of Alignment
IT'S NOT A TEXTBOOK. IT'S NOT A KIT. IT'S A PROGRAM.
Each learning journey should have a clear path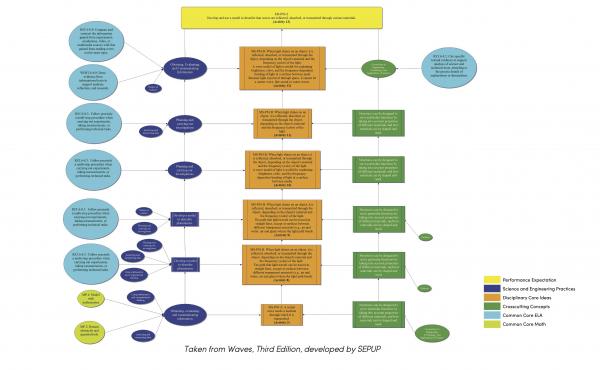 Each Performance Expectation comes at the top of the SEPUP Learning Pathway; a guide for sequencing activities showing connections between the three dimensions of the NGSS as well as Common Core Standards.
Fields and Interactions bundles eight PEs: PS2-3, PS2-4, PS2-5, PS3-2, ETS1-1, ETS1-2, ETS1-3, ETS1-4.
Program Supports
Differentiation
An intentionally flexible approach to all program activity types help accomplish our goal that all students achieve scientific literacy. 
Assessment
Integrated into the programs the SEPUP assessment system sets up ways to collect evidence on student learning and improve performance.
Literacy
Embedded strategies help teachers explore students' thinking and give students multiple opportunities to confront their preconceptions.
SEPUP Third Edition | NGSS
LAB-AIDS materials and kits are relevant to the students and take difficult concepts and really break it down in ways that I think our students would have a better chance at understanding.  We really liked the Labsent ability to help students who are absent or even just to use as a teaching aid to demonstrate visually ways to set-up the lab for different types of learners.  We also feel that the materials really speak to all students across our diverse student population so that everyone can benefit from it.
Science Teacher Booth Fickett K-8
Let us prove it to you
What does fully-aligned look like?