Evidence of Alignment
IT'S NOT A TEXTBOOK. IT'S NOT A KIT. IT'S A PROGRAM.
Each learning journey should have a clear path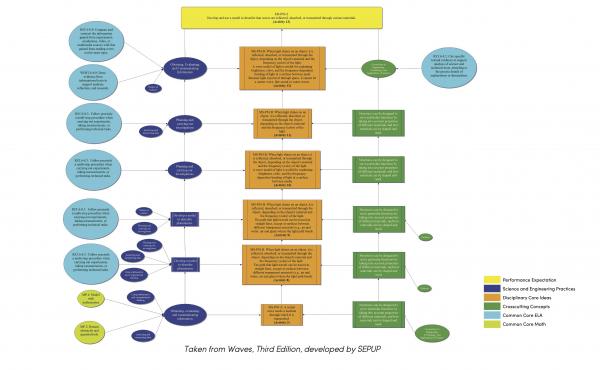 Each Performance Expectation comes at the top of the SEPUP Learning Pathway; a guide for sequencing activities showing connections between the three dimensions of the NGSS as well as Common Core Standards.
Force and Motion bundles five PEs: PS2-1, PS2-2, PS3-1, ETS1-3 and ETS1-4.
Program Supports
Differentiation
An intentionally flexible approach to all program activity types help accomplish our goal that all students achieve scientific literacy. 
Assessment
Integrated into the programs the SEPUP assessment system sets up ways to collect evidence on student learning and improve performance.
Literacy
Embedded strategies help teachers explore students' thinking and give students multiple opportunities to confront their preconceptions.
SEPUP Third Edition | NGSS
Other NGSS curriculum we looked at did not have all the components we were looking for: hands-on, real-world issues, literacy supports, and cross-curricular opportunities. Plus, being able to have it all in one neat package (quite literally with the carts) is one of the best bonuses of this program!
Donna Ferraiolo, Common Core Science Facilitator, Agawam, MA
Let us prove it to you
What does fully-aligned look like?