This page describes how teachers can use Lab-Aids resources with Google Classroom, even if their district hasn't chosen the Google Classroom integration rostering method.
This page is intended for districts who have not selected the Google Classroom integration method.

More specifically, customers accessing the Portal through Clever/Classlink/OneRoster API integrations, customers who are creating accounts with access codes, or customers who were rostered by an admin.

We recommend teachers become familiar with how to navigate throughout the book and access resources before referencing the below options.
How to use Lab-Aids Resources with Google Classroom without Google Classroom Integration:
1. Direct students to a specific page in a book:
Teachers can copy links to specific pages in student books and paste them into Google Classroom for students to access: https://www.lab-aids.com/sharing-links-specific-page
Teachers must have already assigned books to students for this to work successfully.
This option works best if teachers are copying the link while in the one-page view. 
If students are prompted to log in, it's important they know how to log in (i.e. "Log in with Clever" button, log in manually with a username and password, etc.).
Examples of how Option 1 may be used:
Issues and Science: If tonight's homework is Biomedical Engineering Activity 2, teacher can go to the Biomedical Engineering student book Activity 2, copy the link via the above instructions, and then paste the link into Google Classroom. Students click on the link to be brought to the linked page in the student book.
NAC Chemistry: If tonight's homework is NAC Chemistry Podcast 3.1, copy the link to the page in the NAC Chemistry student book containing the specific podcast. Paste that link into Google Classroom and instruct students to click on the blue hotspot for the podcast.

EDC Revised: To direct students to a specific LABsent video, copy page 2 of each student book and instruct them which LABsent link to click on.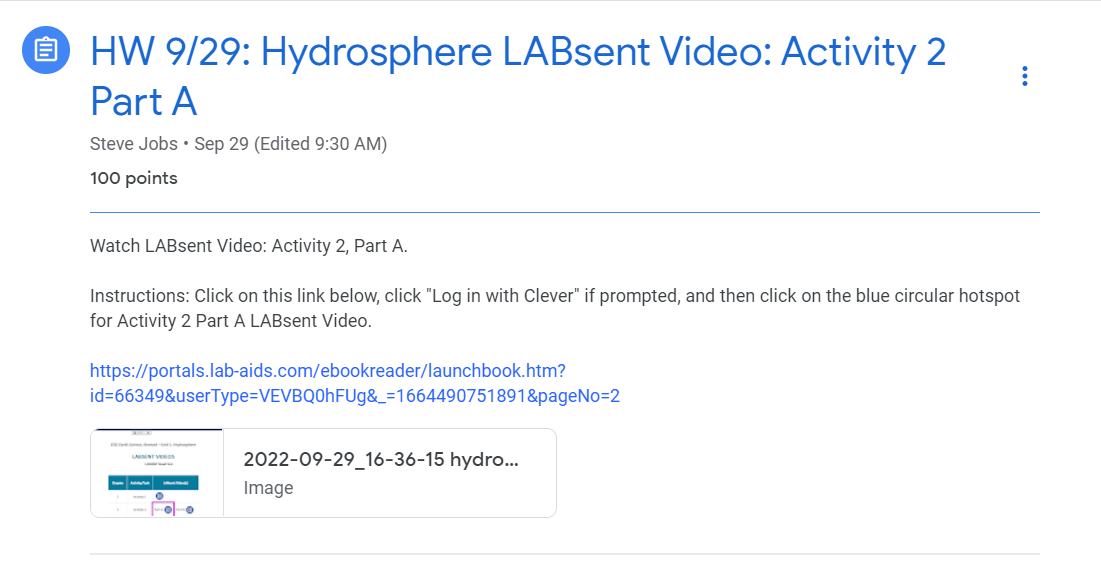 2. Download ancillary resources:
Teachers can download ancillary resources from the Teacher Edition (student sheets, Powerpoints, student book PDF, etc.) and upload into Google Classroom for students to access. https://www.lab-aids.com/portal-navigation-basic-overview-teachers#viewresources.
Examples of how Option 2 may be used: 
Download the student book PDF and share in Google Classroom. 
Download the Powerpoint and share in Google Classroom

Schools that have an option for editing PDFs can download a student sheet PDF and share in Google Classroom for students to complete. 

Download Spanish PDFs and share in Google Classroom for Spanish-speaking students.
3. Copy web links, extension activity URLs, or Google Docs/Slides URLs into Classroom for students to access.
Examples of how Option 3 may be used: 
Post Google Doc links for Remote Learning Packets or Powerpoints into Google Classroom (Google Docs/Slides currently available for Issues and Science, 3rd Edition)
Post a link to a Portal Simulation into Google Classroom 

Must have already assigned simulations to students
Portal Simulations currently available for SGI Biology 2nd edition and Issues and Science 2nd/3rd editions

Copy and paste web links into Classroom, such as:

Post a link to a LABsent video into Google Classroom along with the LABsent document.

Note: EDC Revised does not offer direct links to LABsent videos. Instead, EDC Revised teachers can use option 1 above to link students to page 2 of the student book, which contains the LABsent video hotspots.

4. Assessments:
Google Classroom does not offer any standard assessment format, so GC teachers cannot easily export assessment files from Lab-Aids and import into Google Classroom/Forms. But, teachers can still export our assessments to use to create their Google Forms assessments (can copy and paste assessment text from PDFs).